Consolidate a massive number of journal entries using Excel and validate against SAP
Multi-level review and approval workflow is centrally managed and tracked
Approved files are automatically queued for auto-posting to SAP
Why use it?
Winshuttle for Journal Entry simplifies and automates manual data entry tasks associated with accounting and bookkeeping functions in SAP, without requiring any technical expertise. It allows you to improve your data quality, financial reporting accuracy and regulatory compliance. Winshuttle for Journal Entry enables finance teams to enforce internal controls, reduce SAP training costs and promotes accelerated data entry for faster and better decision making. 
Winshuttle can help you overcome SAP Journal Entry challenges like:
Manual Journal Entry sign off approval processes 

Controls adherence required by audit for regulatory compliance (SOX, IFRS and more) 
Data quality management 

Recurring events and postings 

High volumes of transactional data entry and replication from disparate sub-ledger systems 

Delays in financial period-end close and reporting cycles 

Technical limitations of the SAP transaction (999 lines)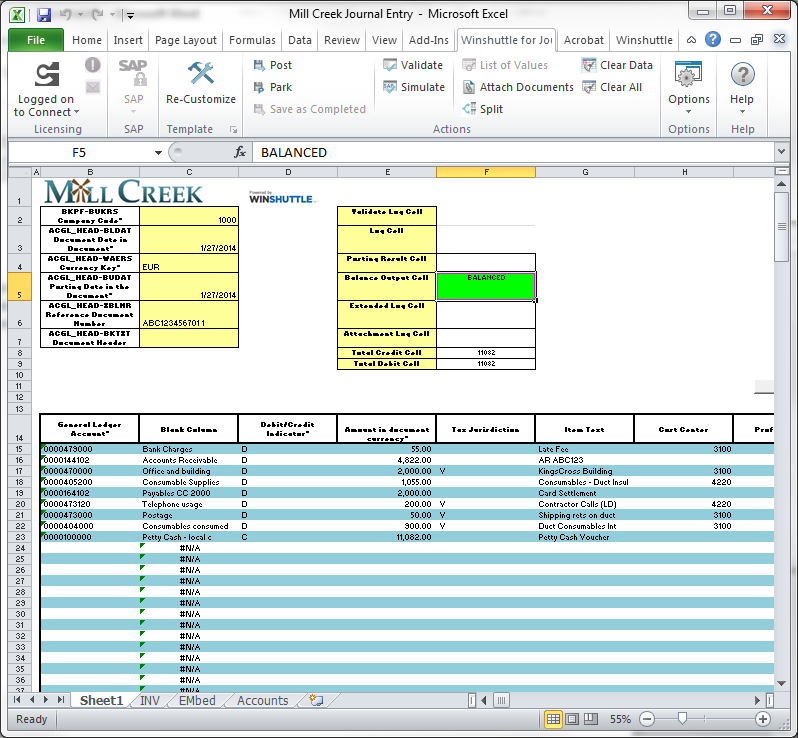 Create manual journals in SAP without recording transactions 
What can it do?
Winshuttle for Journal Entry allows you to post data directly from Excel to SAP, without having to interact with SAP transaction screens. You can easily post and park GL, AP and AR journal entries, and post accruals and deferrals for later reversal. This product also simulates postings and validates data in real time before making entries in SAP. Winshuttle for Journal Entry is easy to deploy and use, and provides robust functionality to ensure SAP security profiles and processes are in place. 
Journal Entry benefits include:
Smooth integration with S/4 HANA Simple Finance 

Simplified journal entry process with pre-built and customizable Excel templates 

Faster processing of large and complicated journals 

ABAP-less installation with an Excel add-in 

Collaboration with workflow approval for multi-tiered sign-off 

Simulating SAP postings prior to routing 

Real-time online or offline data validation 

Intelligent document splitting capability overcomes the 999 limitation of standard posting in SAP 

Links to posted and parked documents after post/park for further queries 

Ability to attach supporting documents directly to journal postings 

Specialized post and park options for: 

Multiple company posting 

Foreign currency posting 

Profitability allocation (COPA) 

Accruals/Deferrals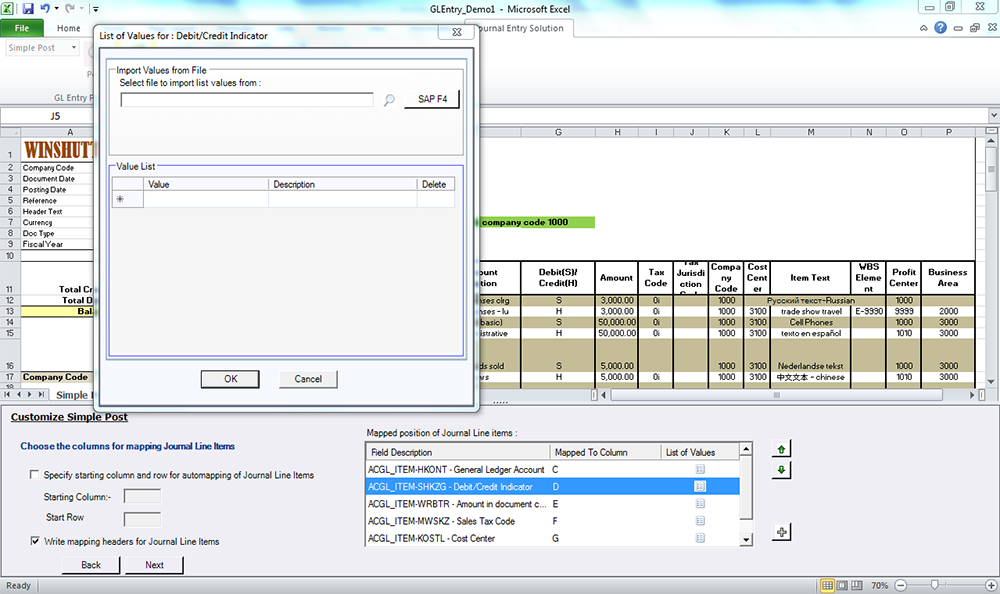 Customize values with Journal Entry 
How does it work?
Once Journal Entry is installed, it will appear as a tab in Microsoft Excel. A cloud-based or on-premise license verification option identifies your user role and provides you with quick and easy access. Author users can immediately ,select from several existing templates in the product covering the core scenarios for G/L posting, A/P and A/P, accrual and deferral postings. Runners who use templates to post and park entries can also schedule accruals/deferrals in SAP for later reversal. 
Winshuttle for Journal Entry does not require any changes to your SAP system or existing SAP security. A single click template selection provides you with a basic set of fields that can be added to the customizing panel. All you need to do next is fill the Excel template with data and validate or simulate that data in SAP. 
From directly within Excel, you can conveniently hyperlink the document number to view documents in the SAP GUI for optional verification. Customizing templates is as easy as checking and un-checking fields.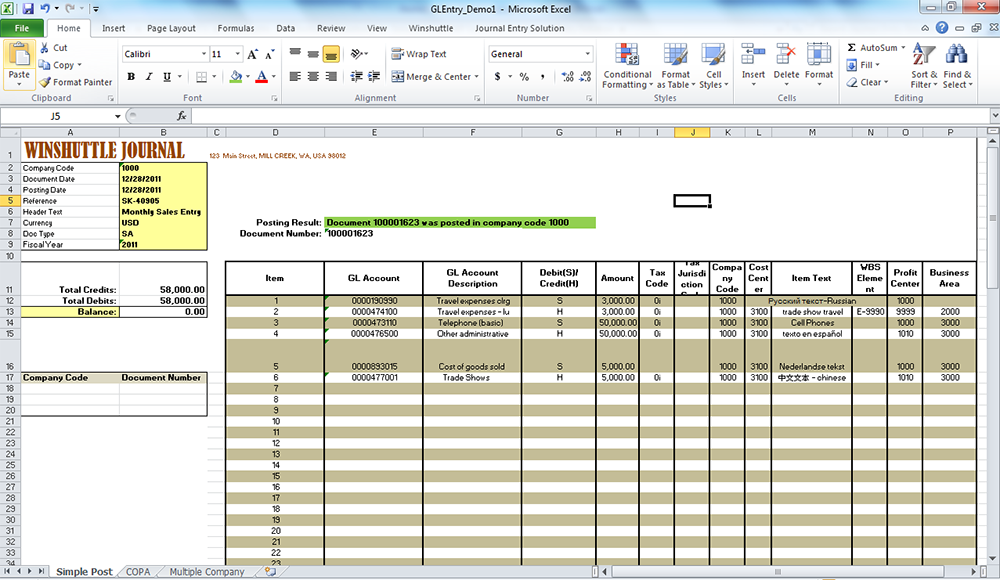 Journal Entry posted


Consolidate a massive number of journal entries using Excel and validate against SAP 

Multi-level review and approval workflow is centrally managed and tracked 

Approved files are automatically queued for auto-posting to SAP 
Benefits of the Winshuttle Enterprise Journal Entry solution:


Continue to work in Excel for greater productivity 

Implement review and approval workflows to improve compliance 

Scale to meet seasonal needs and business growth with current staffing levels 

Eliminate manual data entry into SAP to increase productivity and data accuracy 

Get the right workflow solution faster by reducing dependence on IT 
Contact Us Today