Avenue Model Viewer extracts SAP VC or IPC product model rule patterns and Bills of Material from the SAP KB and makes that information available for further use. One of those uses is to document the product model.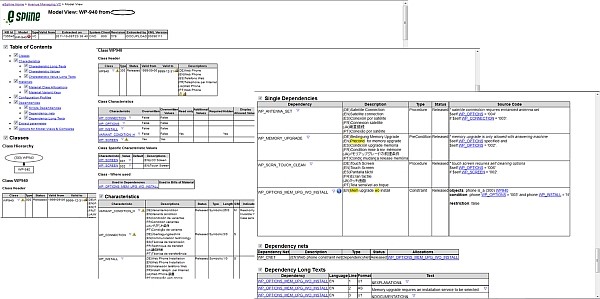 What you see is a reduced view of the several pages of a SAP Variant Configurator model. This documents one model version. The first page header tells you the model name, knowledgebase ID, date extracted, system name, client, who extracted the model, and what is the XML version number. You have the option to add your logo at the top. 
Although the version above is only an image display, Avenue Model Viewer creates an html format with "Quick Links" (in blue) to Classes, Characteristics, Materials, Dependencies and Variant Functions so you can easily navigate the model.  There is also an option to create a pdf file with active links and a Table of Contents that is used as an archive, if you wish. 
 The Model Viewer for a VC or IPC model shows the entire model with all Classes, Characteristics, Materials [if selected for extraction], Dependencies, Tables and Variant Functions. Optional views include HTML or pdf formats with active links to navigate within the document. 
Contact Us Today